Electrolux Professional Privacy Statement
Effective Date: May 2023
Your privacy is important to us. This Privacy Statement describes the types of information Electrolux Professional collects from and about you when you visit the Electrolux Professional website ("Site"), visit our booth at events, use our mobile applications (each an "App"), or use our Connected Appliances (each "Connected Appliances"). The Site, Apps, and Connected Appliances are collectively the "Services." This Privacy Statement also explains how Electrolux Professional may use and disclose such information, as well as your ability to control certain uses of it.
INFORMATION COLLECTION
Information You Provide to Us. Electrolux Professional collects information from you when you choose to provide it to us. This may include when you request information from us, purchase or register a product, create an account with us, sign up for newsletters or our email lists, use our Services, participate in a survey or promotion, or otherwise contact us.
You may be required to provide certain Personal Information to create your Electrolux Professional account. The Personal Information we collect may include your name, address, email address, telephone number, geolocation information, Internet Protocol ("IP") address, mobile device identifier and, if you are making a purchase, credit/debit card number or other financial information. We may also collect non-personal information from you such as product serial and model numbers.
Information We Automatically Collect. We may use cookies and other non-cookie technologies such as web beacons, pixel tags, log files, statistical identifiers, mobile advertising IDs (e.g., Apple's IDFA) or other technologies to automatically collect certain information when you use our Services or interact with our emails and online, mobile and Connected Appliance advertisements. For example, we may automatically collect certain non-personal device identifying information (DII) from you such as your browser type, operating system, software version, and the domain name from which your device accessed the Services. We also may collect information about your use of the Services including the date and time your device accesses the Services, the areas or pages of the Services that your device visits, the amount of time your device spends using the Services, the number of times your device returns, whether your device opens, forwards or clicks-through emails and ads, and other Services usage data (for example, washing load and garment data).
Tracking Options. Certain parts of our Services require cookies. You may adjust your browser or operating system settings to limit this tracking or to decline cookies, but by doing so, you may not be able to use certain features on the Services or take full advantage of all of our offerings and such settings may have no effect on non-cookie technologies. Check the "Help" menu of your browser or operating system to learn how to adjust your tracking settings or cookie preferences. Note that browser settings, including do not track signals and other mechanisms, may not affect data collection and do not constitute an opt-out of advertising-related cookies, or personalized third-party advertising. You must use the opt-out choices described herein in order to opt out from such messages.
To learn more about the use of cookies or other technologies to deliver more relevant advertising and your choices about not having this information used by certain Service Providers (defined below), please click here. On your mobile device, you can adjust your privacy and advertising settings to control whether you want to receive more relevant advertising. See your device's settings for such controls like "Limit Ad Tracking."
If you use a Connected Appliance or a Connected Appliance App, Electrolux Professional will collect information about your use of the Connected Appliance and the App. You may opt-out of this collection by deprovisioning your Connected Appliance from your router.
Information Collected From Other Sources. If you use a third-party login to create your account (such as Facebook Connect) or otherwise link to us, we may receive certain information about you from the third party based on your registration and privacy settings with those third party services. This information may include name, user name, demographic information, updated address or contact information, interests, and publicly-observed data, such as from social media and online activity.
Combination of Information. We may combine the information we receive from and about you, including personal and non-personal information, and information collected through our Sites, Apps, Connected Appliances, and offline, as well as information collected across other computers or devices that you may use, and from third party sources to help us tailor our communications to you and to improve our Site and Services.
We may share data, such as technical identifiers derived from your email sign-in on our Site or our CRM system, with our trusted advertising partners. This allows them to link your devices and/or environments and provide to you a seamless experience across different devices and environments that you use.
HOW WE USE YOUR INFORMATION
Electrolux Professional may use the information we collect from and about you to:
Respond to your inquiries, fulfil orders, process payments, prevent transactional fraud, provide services, and contact and communicate with you;
Develop new products or services;
Provide you with customized content, targeted offers, and advertising on the Services or on other sites or apps;
Contact you with information, newsletters and promotional materials from Electrolux Professional or on behalf of our partners and affiliates;
Research, address problems, and improve the usage and operations of the Services;
Participate in Interest-Based Advertising, by us and our advertising partners.
Protect the security or integrity of the Services and our business; and
As described to you at the point of data collection.
INFORMATION SHARING
Electrolux Professional may share the Personal Information we collect from and about you: (1) among Electrolux Professional and Electrolux Professional brands, subsidiaries, and parent companies; (2) to our Service Providers, if the disclosure will enable them to perform a business, professional or technical support function for us; (3) as necessary if we believe that there has been a violation of the Electrolux Professional Terms of Use or of our rights or the rights of any third party; (4) to respond to judicial process or provide information to law enforcement or regulatory agencies or in connection with an investigation on matters related to public safety, as permitted by law, or otherwise as required by law; and (5) as described to you at the point of collection.
Electrolux Professional may also engage Google, Facebook, LinkedIn, Instagram, and other third party service providers and search engines to assist with search term optimization, collecting and monitoring data about traffic to the Site, and to display ads to users when users are on other websites. These third parties use cookies, web beacons, and other tracking technologies to collect or receive information from Electrolux Professional, the Site, or elsewhere on the internet, and will use that information to provide measurement services and targeted advertisements. Certain states provide residents with the right to opt-out of the collection or use of your data for remarketing, retargeting, online behavioral advertising, and interest-based advertising. To exercise this right to opt-out click HERE. You may can also learn more about your choices regarding targeted advertising by visiting the following websites: www.networkadvertising.org/choices, www.aboutads.info/choices, or http://www.youronlinechoices.eu/.
Except as stated above, we generally do not share your personal information with unaffiliated third parties. Electrolux Professional may share aggregate or pseudonymous, DII with third parties for their marketing or analytics uses as described herein.
Electrolux Professional may sell or purchase assets during the normal course of our business. If another entity acquires Electrolux Professional or any of our assets, information we have collected about you may be transferred to such entity. In addition, if any bankruptcy or reorganization proceeding is brought by or against Electrolux Professional, such information may be considered an asset of Electrolux Professional and may be sold or transferred to third parties. Should such a sale or transfer occur, we will use reasonable efforts to try to require that the transferee use your personal information in a manner that is consistent with this Privacy Statement.
SERVICE PROVIDERS
Electrolux Professional may contract with third parties to perform functions related to the Services ("Service Providers") such as our vendors, consultants, business partners, affiliates, contractors, distribution and fulfilment partners, and other third parties Electrolux Professional uses to support its business. Service Providers will have access to your Personal Information needed to perform their business functions, but may not use or share that Personal Information for other purposes.
CHOICES ABOUT HOW WE USE AND DISCLOSE YOUR INFORMATION
You have some choices about how Personal Information you provide to us or that we collect is used.
Tracking Technologies. You may set your browser to refuse some or all browser cookies, or to alert you when cookies are being sent. To learn how to manage or delete cookies on your browser, visit the browser developer's website. To learn how to manage Flash cookie settings, visit the Flash player settings page on Adobe's website. If you disable or refuse cookies, please note that parts of the Site may not be accessible or may not function properly.
Updating Information. You may update your personal information related to your account in the Services or by contacting our Customer Engagement Center at 1-877-435-3287 or customerservice@ElectroluxProfessional.com. Electrolux Professional may not accommodate a request to change information if we believe the change would violate any law or legal requirement or cause the information to be incorrect.
Do Not Track. The Electrolux Professional Site does not respond to web browser Do Not Track (DNT) signals.
Marketing and Promotional Emails. You can subscribe to receive marketing and promotional emails. When you subscribe to receive these communications we will use your email address to confirm your subscription and send the communications to you. By subscribing to receive marketing and promotional emails you consent to our sharing of your email address our email service provider for purposes of receiving these communications. To opt out of receiving direct marketing materials, please contact us at 1-888-994-7636 or privacy@ElectroluxProfessional.com. You may also opt-out of any direct electronic marketing from Electrolux Professional by using the unsubscribe information therein.
California Residents. State consumer privacy laws may provide their residents with additional rights regarding our use of their personal information. To learn more about California residents' privacy rights, see the Supplemental Privacy Notice for California Residents shown below.
DATA STORAGE
Your Personal Information may be stored on servers in the United States; however, some of our brands, subsidiaries, parent company, and Service Providers may store information on servers hosted in other countries. As such, your personal information may be subject to the laws of other countries, where the data protection and other laws may differ from those of the United States. Your Personal Information may be disclosed in response to inquiries or requests from government authorities or to respond to judicial process in the countries in which we operate.
DATA SECURITY
Electrolux Professional is committed to maintaining the security of the data you provide us and will take reasonable precautions to help protect your Personal Information. We have taken certain physical, administrative, and technical steps to safeguard the information we collect from and about our customers and visitors to our Services. Because there is always some risk in transmitting information over the Internet, while we make every effort to help ensure the integrity and security of our network and systems, we cannot guarantee our security measures.
LINKS TO OTHER WEBSITES
The Services may have links to third-party sites or applications, which may have privacy policies that differ from our own. Electrolux Professional cannot be held responsible for third parties' privacy practices or content provided on such websites. If you click on one of these links, please understand that you are leaving the Electrolux Professional Site and any information you provide will not be covered by this Privacy Statement. Please read that website's privacy policy before providing any information.
CHILDREN'S PRIVACY
Protecting children's privacy is important to us. We do not direct the Services to, nor do we knowingly collect any Personal Information from, children under the age of thirteen.
STATE PRIVACY LAWS
Colorado, Connecticut, Virginia, and Utah each provide their state residents with rights to:
Confirm whether we process their personal information.
Access and delete certain personal information.
Data portability.
Opt-out of personal data processing for targeted advertising and sales.
Colorado, Connecticut, and Virginia also provide their state residents with rights to:
Correct inaccuracies in their personal information, taking into account the information's nature processing purpose.
Opt-out of profiling in furtherance of decisions that produce legal or similarly significant effects.
To exercise any of these rights, please contact us at 1-888-994-7636 or privacy@ElectroluxProfessional.com. To appeal a decision regarding a consumer rights request please contact privacy@electroluxprofessional.com.
NEVADA RESIDENTS
Under Nevada law, Nevada residents may submit a request directing Electrolux Professional not to make certain disclosures of Personal Information we maintain about them. If you are a Nevada resident and wish to exercise this right, you may contact us by email at privacy@electroluxprofessional.com. However, we do not currently sell data triggering Nevada's statute's opt-out requirements.
REVISIONS TO THIS STATEMENT
Electrolux Professional reserves the right to revise this Privacy Statement at any time. When we do, we will post the change(s) on the Services. If we make material changes to the way it treats users Personal Information, Electrolux Professional may choose notify you by email or through a notice in addition to posting. The date the Privacy Statement was last revised appears at the top of the Privacy Statement. You are responsible for ensuring Electrolux Professional has a current email address for you and for periodically visiting the Site and the Privacy Statement to check for any changes.
IF YOU HAVE QUESTIONS
If you have any questions about this Privacy Statement or the practices described herein, you may contact us at:
Electrolux Professional, Inc.
Attn: Legal Department
4003 Collins Lane Louisville,
Kentucky 40245
Electrolux Professional Supplemental Privacy Statement and Disclosure for California Residents
Effective Date: May 2023
Your privacy is important to us. This Supplemental Privacy Notice and Disclosure for California Residents applies solely to those who reside in the State of California ("you") and supplements the Electrolux Professional Privacy Statement as seen above. The purpose of this privacy notice and disclosure is to inform California residents about your California Privacy Rights and address certain other requirements of California law.
INFORMATION WE COLLECT
Below are categories of personal information recognized by the CCPA/CPRA along with examples (provided by the CCPA/CPRA) of types of personal information in each category:
Identifiers. Real name, alias, postal address, unique personal identifier, online identifier, Internet Protocol address, email address, account name, Social Security number, driver's license number, passport number, or other similar identifiers
CA Customer Records Statute categories. Name, signature, Social Security number, physical characteristics or description, address, telephone number, passport number, driver's license or state identification card number, insurance policy number, education, employment, employment history, bank account number, credit card number, debit card number, or any other financial information, medical information (such as temperature, symptoms, health condition), or health insurance information
Protected Class Characteristics. Age (40 years or older), race, color, ancestry, national origin, citizenship, religion or creed, marital status, medical condition, physical or mental disability, sex (including gender, gender identity, gender expression, pregnancy or childbirth and related medical conditions), sexual orientation, veteran or military status, genetic information (including familial genetic information)
Commercial Information. Records of personal property, products or services purchased, obtained, or considered, or other purchasing or consuming histories or tendencies
Biometric Information. Genetic, physiological, behavioral, and biological characteristics, or activity patterns used to extract a template or other identifier or identifying information, such as, fingerprints, faceprints, and voiceprints, iris or retina scans, keystroke, gait, or other physical patterns, and sleep, health, or exercise data
Internet/network activity. Browsing history, search history, information on a consumer's interaction with a website, application, or advertisement
Geolocation data. Physical location or movements
Sensory data. Audio, electronic, visual, thermal, olfactory, or similar information
Professional/employment-related information. Current or past job history or performance evaluations
Non-public education information. Education records directly related to a student maintained by an educational institution or party acting on its behalf, such as grades, transcripts, class lists, student schedules, student identification codes, student financial information, or student disciplinary records
Inferences drawn from other personal information. Profile reflecting a person's preferences, characteristics, psychological trends, predispositions, behavior, attitudes, intelligence, abilities, and aptitudes
Sensitive Personal Information such as racial/ethnic origin, political opinions, religious or philosophical beliefs, genetic data, biometric data, sex life / sexual orientation, union membership, past or spent criminal convictions, mail, email and text message content, precise geolocation data, social security, driver's license, state identification card, passport number, account login, financial account, debit card, or credit card number.
Sources. We also collect personal information automatically from your devices when you use our website, mobile applications, or connected appliance ("Services.") We also collect this personal information about you when you register your product, provision your connected appliance, request service, submit a rebate form, enter a sweepstakes, create an online account, or otherwise interact with our Services and brand. We use this information to provide products, services or information at your request or about your product and for our internal operations purposes.
How We Use Personal Information. Electrolux Professional uses the Personal Information it collects in the ways described in the "How We Use Your Information" Section of the Electrolux Professional Privacy Statement. Electrolux Professional may use Personal Information for commercial purposes as well as business purposes. Electrolux Professional does not knowingly collect or sell the personal information of minors.
Disclosure of Personal Information. Electrolux Professional discloses the Personal Information it collects in the ways described in the "Information Sharing" and "Service Providers" Sections of the Electrolux Professional Privacy Statement. The categories of information identified above may be shared with service providers such as product servicers, logistics providers, payment processors, financial service providers, web analytics and service providers, email distribution service providers, and customer relationship management tool providers.
PERSONAL INFORMATION WE COLLECT ABOUT CALIFORNIA CONSUMERS
We collect certain types of Personal Information about you during your relationship with us, as stated above. In particular, we collected the following categories of Personal Information from California consumers within the last twelve (12) months: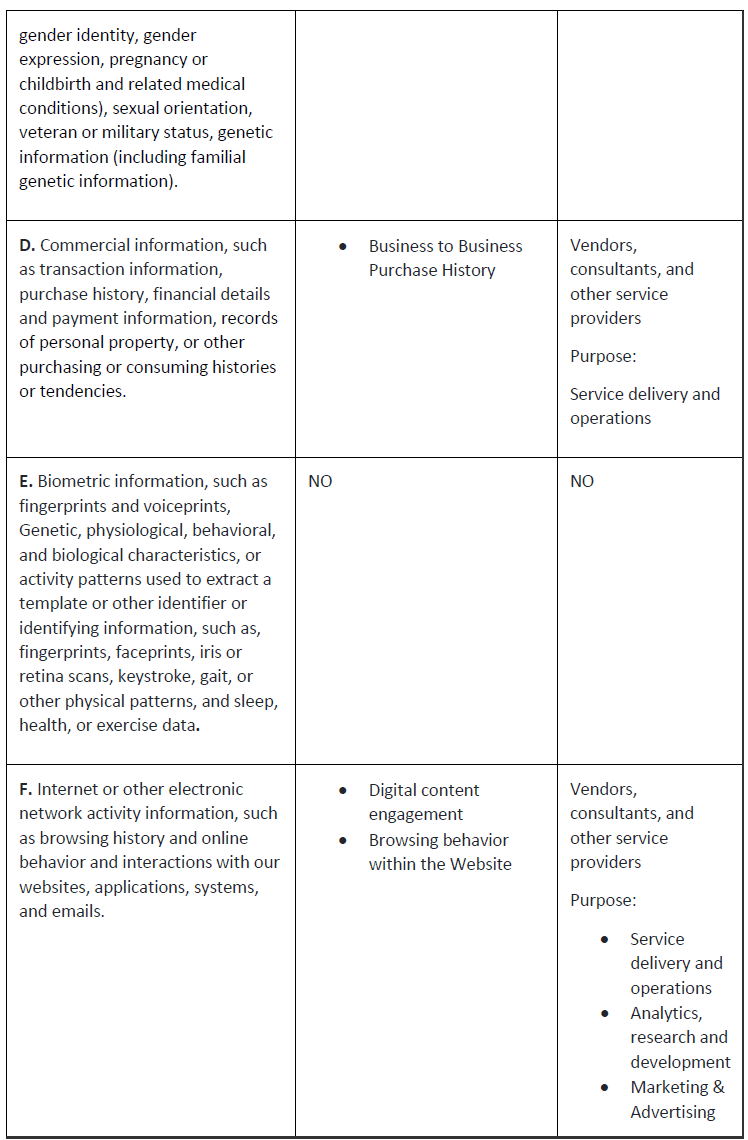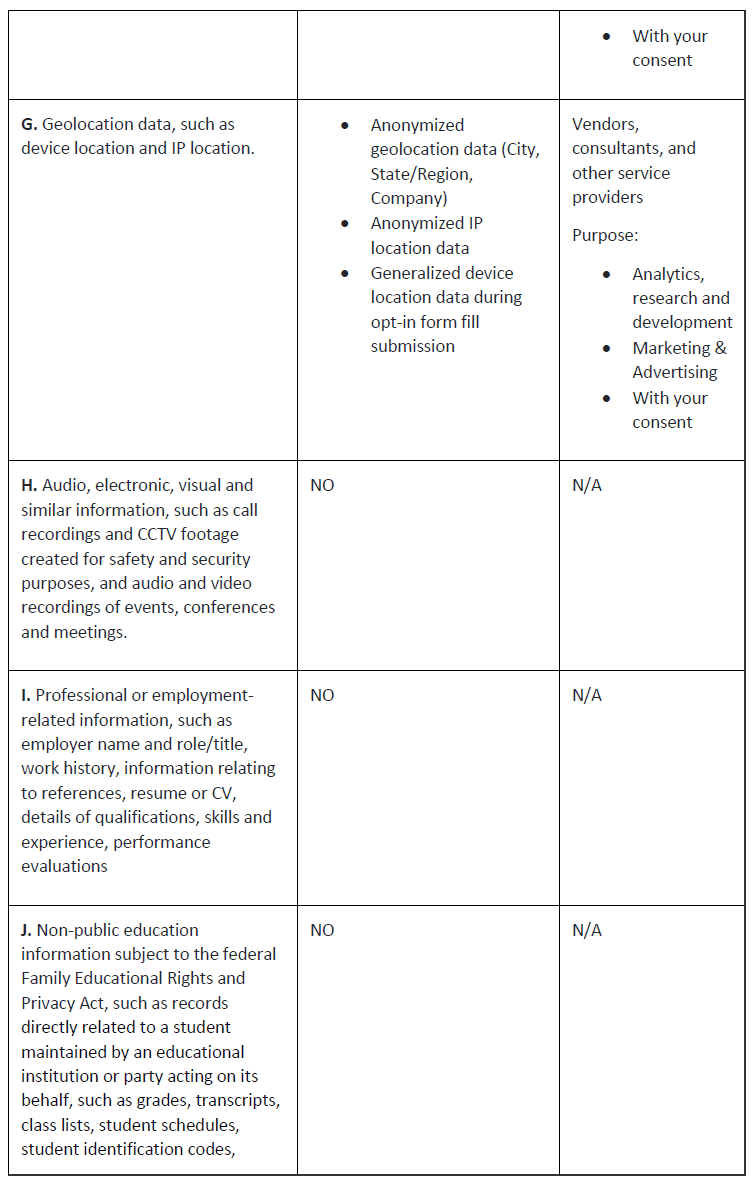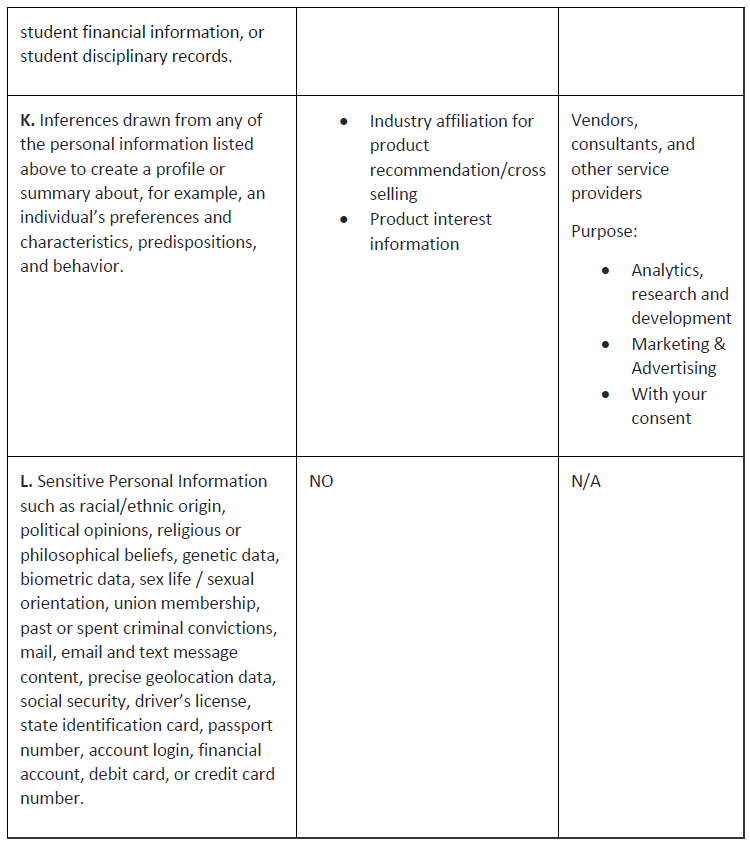 RETENTION
Typically, Electrolux Professional retains your personal information for the period necessary to fulfill the purposes outlined in this privacy policy, unless a longer retention period is required or permitted by law. Please note that in many situations we must retain all, or a portion, of your personal information to comply with our legal obligations; resolve disputes; enforce our agreements; protect against fraudulent, deceptive, or illegal activity; or for another one of our business purposes.
YOUR RIGHT TO KNOW
Subject to certain exceptions, you have the right to request certain information about Electrolux Professional's collection, use, and/or disclosure of your Personal Information over the past 12 months. After receipt of a verifiable consumer request from you, Electrolux Professional will disclose to you the categories of Personal Information collected, categories of sources for the categories of Personal Information collected, business or commercial purpose for collecting such Personal Information, categories of third parties with whom Electrolux Professional shared such Personal Information, and specific pieces of Personal Information collected about you
YOUR RIGHT TO OPT-OUT
Electrolux Professional does not sell your email, phone number or the Identifiers and Commercial Information listed above. We do share internet and other similar network activity information with our advertising partners. As a California resident, you have the right to opt-out of the sharing of your personal information. You may exercise your Right to Opt-Out by clicking "Do Not Share or Sell My Personal Information" or by submitting a request at privacy@ElectroluxProfessional.com. Once you make an opt-out request, you may change your mind and opt back in at any time.
YOUR RIGHT TO REQUEST DELETION OF YOUR PERSONAL INFORMATION
You have the right, subject to certain exceptions, to request that Electrolux Professional delete any of your personal information collected or maintained by Electrolux Professional. You can do this through a verified consumer request as described below.
YOUR RIGHT TO CORRECTION
If we hold personal information about you that is incorrect, you have the right to tell us that it is incorrect and ask us to amend it. We will do this consistent with applicable law. If you would like to correct your personal information, please send an email to privacy@ElectroluxProfessional.com or call 1-888-994-7636.
SUBMITTING A VERIFIED CONSUMER REQUEST
California Request Process. If you reside in California, only you or someone legally authorized to act on your behalf may submit verified consumer requests to know information or for deletion. You may also make a verifiable consumer request on behalf of your minor child, if applicable. We will only use personal information provided in your verifiable consumer request to verify your identity or authority to make the request. We cannot respond to your request or provide you with personal information if we cannot verify your identity or authority to make the request. Such a request must provide sufficient information to allow Electrolux Professional to reasonably verify that you are (or are an authorized representative of) the person about whom Electrolux Professional collected the Personal Information, and describe your request with sufficient detail to allow Electrolux Professional to properly understand, evaluate, and respond to it. You may only make a verified consumer request to know information twice within a 12-month period.
Submitting Your Request. Your request will be verified using information you provide here. If you call 1-888-994-7636 you will be asked to provide the same information requested on the form for verification purposes.
Verifying Requests. Electrolux Professional will confirm receipt of your request within the time period prescribed by the CCPA/CPRA and/or its regulations, let you know how Electrolux Professional will process the request, and let you know Electrolux Professional's verification process, and anticipated timeframe for response. Electrolux Professional may try to verify your request by asking you to provide certain information and matching it to the information Electrolux Professional maintains about you. Electrolux Professional will request at least two data points about you. Depending on the nature of your request, Electrolux Professional may require more data points to match and/or may require you to sign a declaration confirming under penalty of perjury that you are the consumer whose Personal Information is the subject of the request.
Response Timing and Format. Electrolux Professional will try to respond to a verified consumer request within forty five (45) days of receipt, but if Electrolux Professional requires more time to respond, it will let you know how long and why in writing. Electrolux Professional will respond to you by mail or electronically at your option. Any disclosures Electrolux Professional provides in response to your request will pertain only to the 12-month period immediately preceding receipt of the verifiable consumer request. If Electrolux Professional is unable to respond to the request, Electrolux Professional will explain why, if applicable. If Electrolux Professional is unable to verify your identity in connection with a request for specific pieces of information about you, Electrolux Professional will let you know (but will not disclose the specific pieces of information) and will evaluate the request as though it were a request for categories of Personal Information disclosed to third parties during the past 12 months. If Electrolux Professional denies a request due to conflict with federal or state law or an exception to the CCPA/CPRA, Electrolux Professional will explain the basis for the denial. If Electrolux Professional cannot verify your identity in connection with a request to disclose categories of information disclosed to third parties, Electrolux Professional will let you know, and will provide you information about its general business practices regarding collection, maintenance, and sale of Personal Information. If Electrolux Professional cannot verify the identity of an individual requesting deletion of personal data, Electrolux Professional will deny your request and will treat the request as a request to opt-out of sale. Electrolux Professional has no obligation to provide you with specific Personal Information if such disclosure creates a substantial, articulable, and unreasonable risk to security. In the event of unfounded or excessive requests, we may either charge a reasonable fee or refuse to act on the request, notifying you of our reason for refusing to act. If we determine that the request warrants a fee, we will notify you of the reason for that determination and provide you with a cost estimate before completing your request.
USING AN AUTHORIZED AGENT TO SUBMIT A REQUEST
Only you or a person you authorize to act on your behalf may make a verifiable consumer request related to your personal information. If you're an authorized agent making a request you need to do the following:
e-mail to Privacy@ElectroluxProfessional.com a copy of a power of attorney provided to you by the consumer, in compliance with California's Probate Law; or
e-mail to Privacy@ElectroluxProfessional.com proof of signed permission along with a copy of your ID and have the consumer directly confirm with us that they provided you permission to submit the request by sending an e-mail.
If you use an authorized agent, you may provide a power of attorney executed pursuant to California Probate Law.
YOUR RIGHT TO NON-DISCRIMINATION FOR THE EXERCISE OF A PRIVACY RIGHT
We will not discriminate against you for exercising any of your CCPA/CPRA rights. We will not:
Deny you goods or services.
Charge you different prices or rates for goods or services, including through granting discounts or other benefits, or imposing penalties.
Provide you a different level or quality of goods or services.
Suggest that you may receive a different price or rate for goods or services or a different level or quality of goods or services
OTHER CALIFORNIA PRIVACY RIGHTS
California's "Shine the Light" law (Civil Code Section § 1798.83) permits users of our website that are California residents to request certain information regarding our disclosure of personal information to third parties for their direct marketing purposes. To make such a request, please contact us as stated below.
Electrolux Professional responds to Do Not Sell Opt-Out requests as disclosed in the section "Your Right to Opt-Out." Other parties may collect personally identifiable information about your activities over time and across different websites when a consumer uses our Service.
Pursuant to the CPRA, we do not sell or disclose deidentified information to third parties and will not attempt to re-identify deidentified personal information
CHANGES TO OUR PRIVACY NOTICE
Electrolux Professional reserves the right to amend this privacy notice at any time by posting a revised notice. Your continued use of our Services following the posting of changes constitutes your acceptance of such changes.
CONTACT INFORMATION
If you have any questions or comments about this Supplemental Privacy Statement, the ways in which Electrolux Professional collects and uses your information, your choices and rights regarding such use, or wish to exercise your rights under California law, please do not hesitate to contact us at:
Electrolux Professional, Inc.
Attn: Legal Department
4003 Collins Lane Louisville,
Kentucky 40245